Breast Augmentation Before & Afters
Breast Augmentation Before & After: Case 1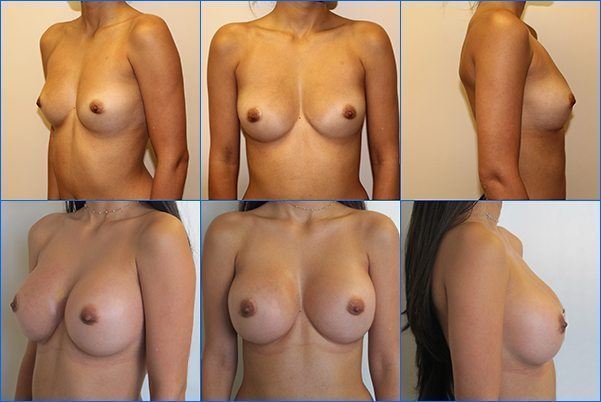 Patient Information
Age: 21
Height: 5'6″
Weight: 125 pounds
Pre-Op Cup: B
Post-Op Cup: D
Implant Information
Type: Silicone Gel
Size: 500cc
Placed: Submuscular
Incision Type: Periareolar
Breast Augmentation Before & After: Case 2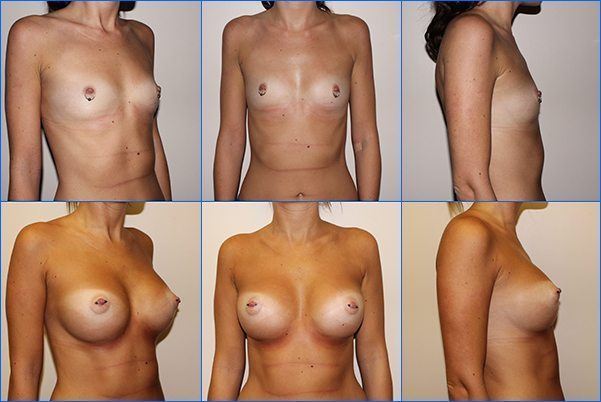 Patient Information
Age: 26
Height: 5'6″
Weight: 118 pounds
Pre-Op Cup: A
Post-Op Cup: C
Implant Information
Type: Silicone Gel
Size: 350cc
Placed: Submuscular
Incision Type: Periareolar
Breast Augmentation Before & After: Case 3
Age: 27
Height: 5'8″
Weight: 132 pounds
Pre-Op Cup: A
Post-Op Cup: C
Type: Silicone Gel
Size: 325 cc
Placed: Submuscular
Incision Type: Periareolar
Breast Augmentation Before & After – Case 4
Age: 21
Height: 5'3″
Weight: 100 pounds
Pre-Op Cup: A
Post-Op Cup: C
Type: Silicone Gel
Size: Full B to a Small C
Placed: Submuscular
Incision Type: Periareolar
Breast Augmentation Before & After – Case 5
Age: 19
Height: 5'5″
Weight: 120 pounds
Pre-Op Cup: B
Post-Op Cup: C
Type: Silicone Gel
Size: 300 cc
Placed: Submuscular
Incision Type: Periareolar
Breast Augmentation Before & After – Case 6
Age: 37
Height: 5'5″
Weight: 112 pounds
Pre-Op Cup: A
Post-Op Cup: C
Type: Silicone Gel
Size: 350 cc
Placed: Submuscular
Incision Type: Periareolar
Breast Augmentation Before & After – Case 7
Age: 27
Height: 5'8″
Weight: 132 pounds
Pre-Op Cup: A
Post-Op Cup: C
Type: Saline
Size: 400 cc
Placed: Submuscular
Incision Type: Periareolar
Breast Augmentation Before & After – Case 8
Age: 24
Height: 5'4″
Weight: 115 pounds
Pre-Op Cup: A
Post-Op Cup: C
Type: Saline
Size: 360 cc
Placed: Submuscular
Incision Type: Periareolar
Breast Augmentation Before & After – Case 9
Age: 26
Height: 5'9″
Weight: 121 pounds
Pre-Op Cup: A
Post-Op Cup: C
Type: Silicone Gel
Size: 325 cc
Placed: Submuscular
Incision Type: Periareolar
Breast Augmentation Before & After – Case 10
Age: 29
Height: 5'2″
Weight: 0 pounds
Pre-Op Cup: A
Post-Op Cup: D
Type: Silicone Gel
Size: 625 cc
Placed: Submuscular
Incision Type: Periareolar
Breast Augmentation Before & After – Case 11
Age: 37
Height: 5'6″
Weight: 100 pounds
Pre-Op Cup: A
Post-Op Cup: B
Type: Saline
Size: 360 cc
Placed: Submuscular
Incision Type: Periareolar
Breast Augmentation Before & After – Case 12
Age: 18
Height: 5'7″
Weight: 130 pounds
Pre-Op Cup: A
Post-Op Cup: C
Type: Silicone Gel
Size: 400 cc
Placed: Submuscular
Incision Type: Periareolar
Breast Augmentation Before & After – Case 13
Age: 18
Height: 5'7″
Weight: 105 pounds
Pre-Op Cup: A
Post-Op Cup: B
Type: Silicone Gel
Size: 275 cc
Placed: Submuscular
Incision Type: Periareolar
Breast Augmentation Before & After – Case 14
Age: 26
Height: 5'10"
Weight: 125 pounds
Pre-Op Cup: B
Post-Op Cup: C
Type: Silicone Gel
Size: 350 cc
Placed: Submuscular
Incision Type: Periareolar
Breast Augmentation Before & After – Case 15
Age: 32
Height: 5'8″
Weight: 125 pounds
Pre-Op Cup: B
Post-Op Cup: C
Type: Silicone Gel
Size: 300 cc
Placed: Submuscular
Incision Type: Periareolar
Breast Augmentation Before & After – Case 16
Age: 20
Height: 5'3″
Weight: 113 pounds
Pre-Op Cup: A
Post-Op Cup: C
Type: Saline
Size: 300 cc
Placed: Submuscular
Incision Type: Periareolar
Breast Augmentation Before & After – Case 17
Age: 21
Height: 5'4″
Weight: 110 pounds
Pre-Op Cup: B
Post-Op Cup: C
Type: Silicone Gel
Size: 425 cc
Placed: Submuscular
Incision Type: Periareolar
Breast Augmentation Before & After – Case 18
Age: 31
Height: 5'11"
Weight: 135 pounds
Pre-Op Cup: A
Post-Op Cup: C
Type: Silicone Gel
Size: 350 cc
Placed: Submuscular
Incision Type: Periareolar
Breast Augmentation Before & After – Case 19
Age: 23
Height: 5'1″
Weight: 97 pounds
Pre-Op Cup: A
Post-Op Cup: B
Type: Silicone Gel
Size: 260 cc
Placed: Submuscular
Incision Type: Periareolar
Breast Augmentation Before & After – Case 20
Patient Information
Age: 25
Height: 5'2″
Weight: 105 lbs
Pre-Op Cup: B
Post-Op Cup: C
Implant Information
Type: Saline
Size: 300 cc
Placed: Submuscular
Incision Type: Periareolar
Breast Augmentation Before & After – Case 21
Patient Information
Age: 30
Height: 5'7″
Weight: 115 lbs
Pre-Op Cup: B
Post-Op Cup: D
Implant Information
Type: Silicone Gel
Size: 600 cc
Placed: Submuscular
Incision Type: Periareolar
Breast Augmentation Before and After surgery in Miami, FL
If you are unhappy with your breast size, breast augmentation surgery (either breast enhancement or breast enlargement) is a choice to consider. Implants also may be used to reconstruct a breast after mastectomy or injury.
Breast augmentation can:
* Increase fullness of your breasts
* Enhance your self-image and self-confidence
* Improve the balance of your figure
Breast Augmentation can't:
Breast augmentation does not correct severely drooping breasts. If you want your breasts to look fuller and to be lifted due to sagging, a breast lift may be required in conjunction with breast augmentation.
Is it right for me?
Breast augmentation is a highly individualized procedure and you should do it for yourself, not to fulfill someone else's desires or to try to fit any sort of ideal image.
Breast augmentation may be a good option for you if:
* You are physically healthy
* You have realistic expectations
* Your breasts are fully developed
* Your breasts losing shape and volume after pregnancy, weight loss, or with aging
* Your breasts vary in size or shape
* One or both breasts failed to develop normally
For a free consultation contact our plastic surgery center in Miami at (305) 444-8585.